Make cushion covers and pictures Using Acrylic paint, Fabric and Collage.
The designer at Wild Cherry Designs has made these colourful scatter cushions and sent me the photos along with some snaps of her framed pictures.
The style is fresh and the colours are so cheerful, and I thought anyone could make their own versions following a similar approach.
By combining fine lines drawings and areas of colour together with applique collage the artist has made designs that are interesting and quirky. Notice how the artist has used similar colours in each design to achieve a theme, yet every piece is unique.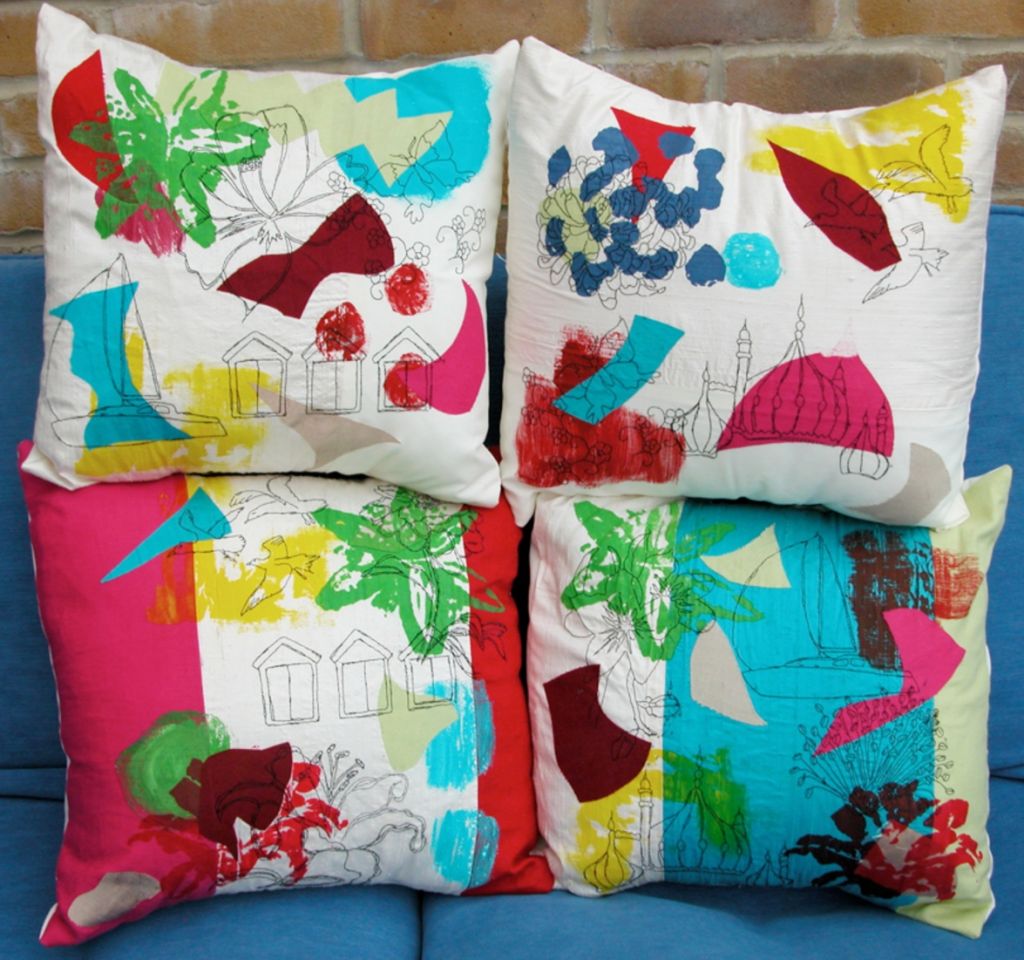 You could easily incorporate little drawings reflecting your own interests, sports or places you have visited.
The artist has not sent instructions, but I can make some suggestions here.
Drawing
The line drawings can be done with a fine permanent marker, a pen for labelling children's school clothes would work well.
If you are not confident about drawing, you could trace an image you like, and transfer it.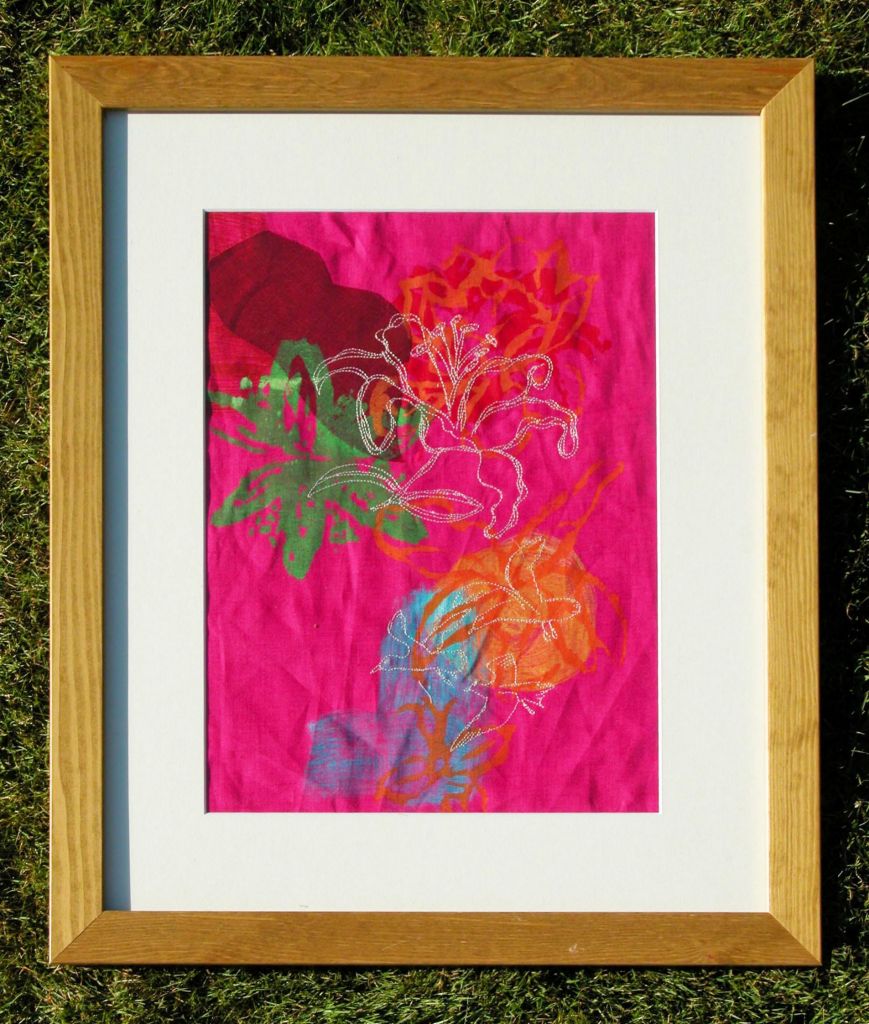 The loose style of this picture is deceiving because there's a lot of work in it. I think the sewing is done by hand using backstitch with a thick thread. It might be crochet thread. The pink shows through the paint where it is thinner, creating extra colours as if mixed.
This piece is mounted and framed for the wall, but the idea would work well for a cushion.
Backgound Colours
You can use coloured fabric for the background and machine-embroider the drawing.  You could even make several large squares and sew them together to make a patchwork throw!
Plain coloured squares in between would make it quicker to complete and looks great. This mock-up uses details from several artworks by Wild Cherry Designs.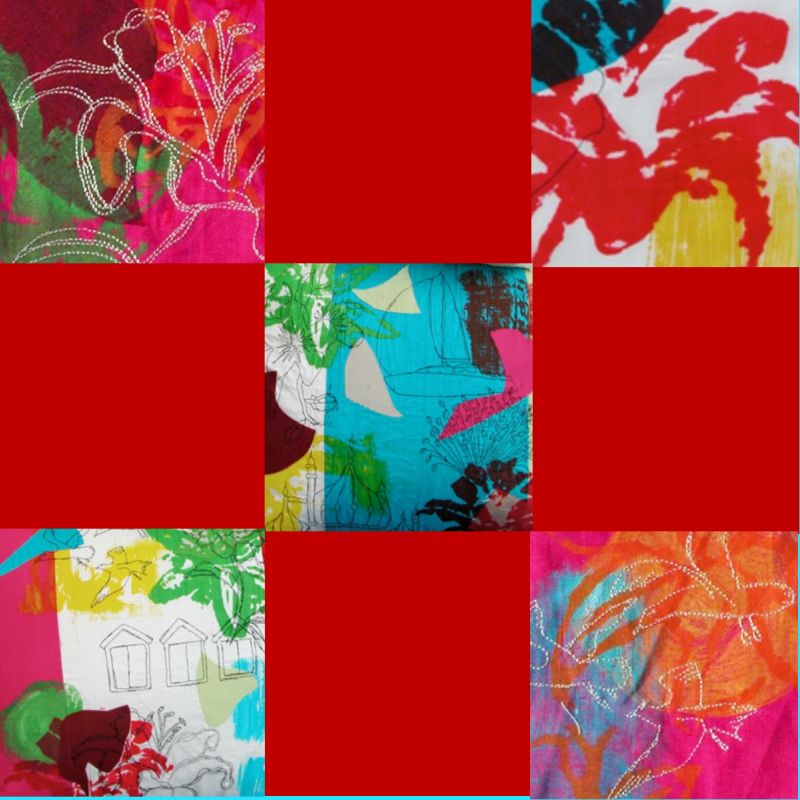 Outlines Acrylic paints are ideal for these ideas – Get a Selection Here.
You can choose your colours or buy a set.
A few colours on a light background make a bright picture to decorate a room.
See how the painting goes onto the collage as well as the background material in this framed piece.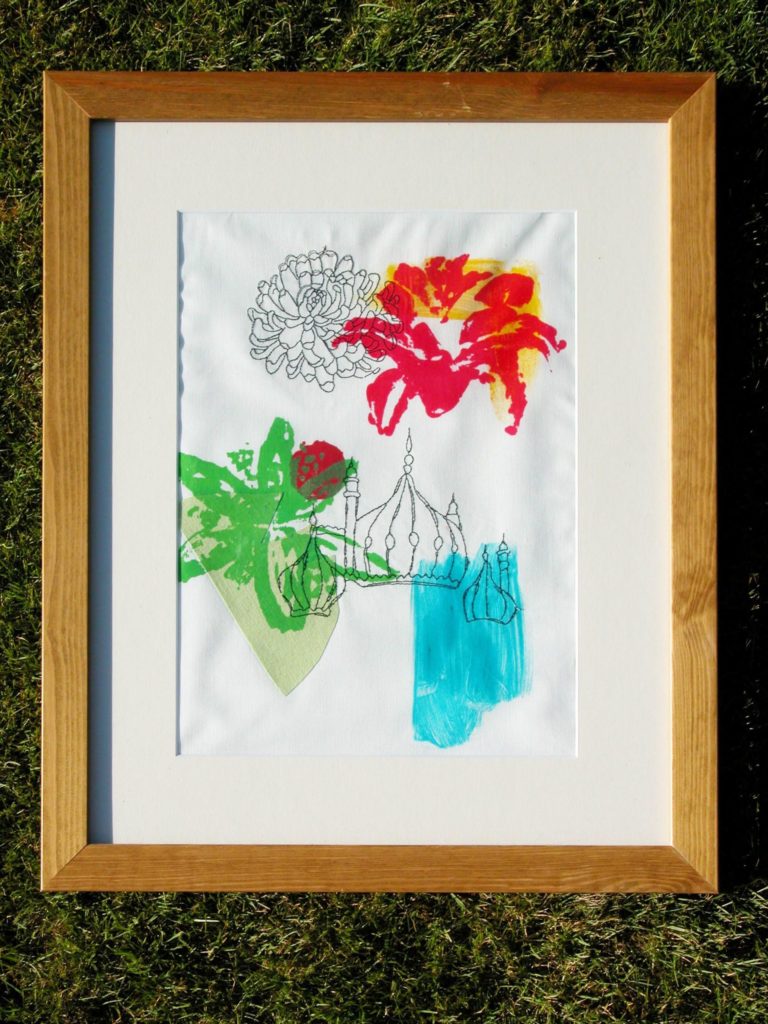 Paint Consistency
When painting on fabric, to keep the material flexible, you might dilute the acrylic paint with water, adding a little at a time so that it doesn't become too thin. The consistency of single cream should be about right, but you can experiment until it feels just right. If you dilute too much the colour might 'run' and it will be more transparent. An item that is intended to be washed occasionally needs to absorb the paint and you don't want it to be so thick that the lumps drop off in the wash.
I have painted things years ago that lasted through lots of washes – and let that be a reminder that you need to protect the clothes you are wearing from splashes or wear old clothes that you don't mind spoiling.
Joined Fabrics
Two fabrics can be sewn together to make your background. The bright pink stripe and large splashes in this picture make a bold statement.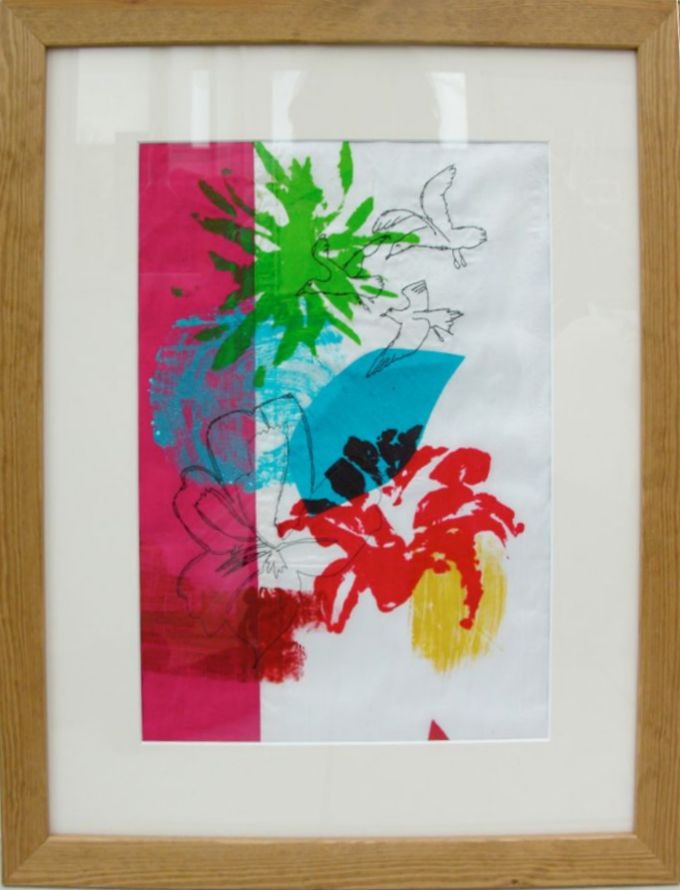 Best Fabrics to use.
It is definitely easier to paint on woven fabrics that don't stretch, such as sheet material or any plain cotton, or cotton mix.
I have painted T-shirts, but its harder to get a crisp edge on stretchy cloth.
If you have some material with a pattern, it could work very well. Imagine a striped cloth or pale flowery pattern with bold painted areas. Make use of old men's shirts, they have a lot of material in them, but make sure it's not one of his old favorites!
A dark colour can look very good if the painted areas are strong. Remember, thicker paint will be less flexible if you want to make cushion covers.
Painting Tips
You could try using masking tape to make clean edges and you can use stencils as well. It would be a good idea to pin or tape the fabric to a board to keep it in place while you work.
If you have a piece of softboard or an old pinboard, that would do very well. Otherwise any piece of stiff board or hardboard will do and the fabric can wrap around and be taped at the back.
Any type of brush can be used to paint fabrics. It's down to you to try stiff and soft, large and small and see the results. If you like a scratched look, a stiff brush lifted off before the end of the stroke will be best and if you want it smooth a softer brush will be ideal. You can 'flick' paint for a random result and an old toothbrush, loaded with paint then scraped, can make a finer sprayed effect.
Does this art by Wild Cherry Designs inspire you to get busy and play with fabrics, paint and collage?
You must have something you can paint on, or an old cushion or two that could do with a face-lift!
Don't forget to get some paint. Outlines Acrylic Paints come in generous 75ml Tubes and our 12 colour set is available Here.
Tell us your ideas below and subscribe to our newsletter to keep up with new tips and inspiration.
Summary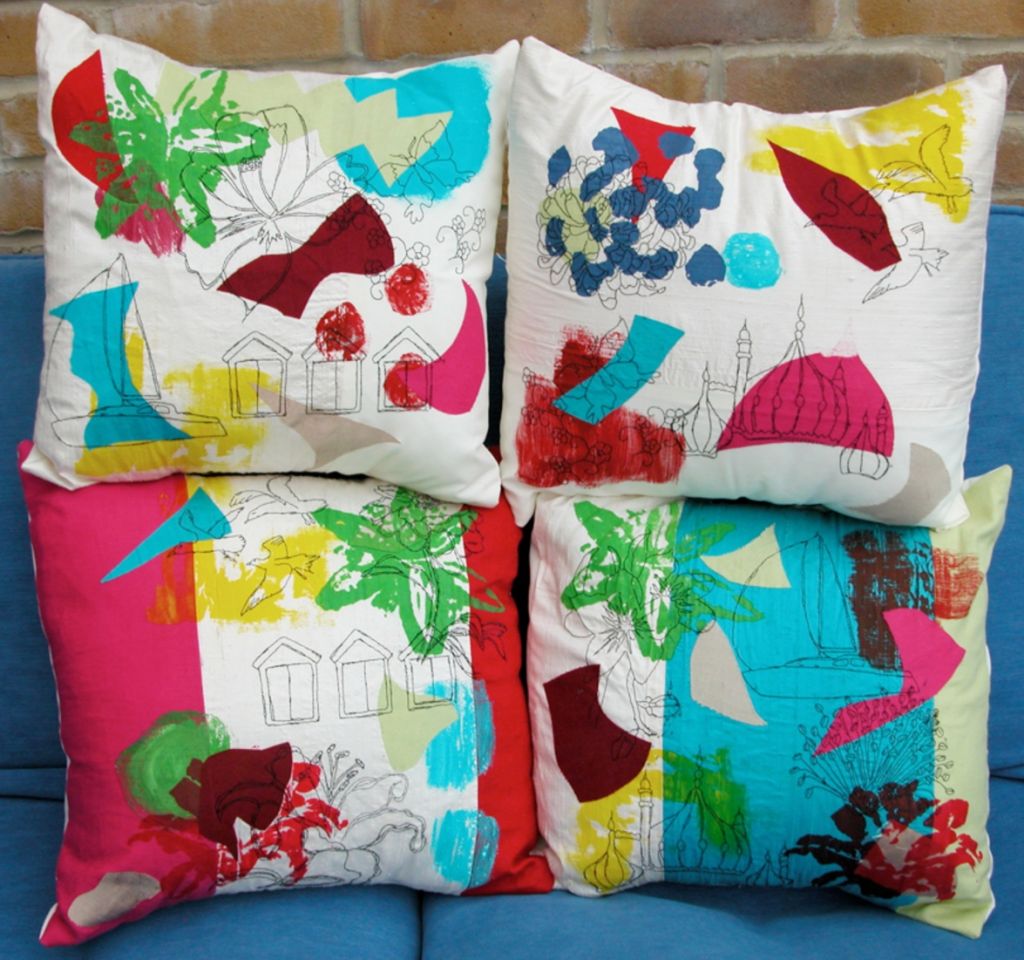 Article Title
Artist Using Acrylic paint, Fabric and Collage
Contents
Make cushion covers and pictures with Acrylics, fabric off-cuts and Collage. Get inspiration from Wild Cherry Designs' colourful cushions and framed pictures.
Author
Publisher
Publisher Logo